PolarCam snapshot micropolarizer cameras simultaneously capture a snapshot image of multiple polarization angles from each video frame, without image blur. Compact, fast and field-proven, these unique cameras enable a range of image enhancement techniques and polarimetric measurements, for applications in process control, medical imaging, remote sensing and more.
Proprietary micropolarizer technology enables the PolarCam's broad spectral response, wide angular bandwidth and high extinction ratio. The micropolarizer array is bonded directly to the sensor and includes no moving parts, providing a fully solid state, Division of Focal Plane (DoFP) configuration.
"We are surrounded by a world full of polarized light, which is largely unseen. 4D Technology makes the best cameras for viewing it."
– Larry Sverdrup, PhD, Trex Enterprises
Polarization camera for image enhancement.
Wonder how micropolarization cameras can be used?
Micropolarizer technology enables PolarCam polarization cameras to acquire four polarization angles simultaneously.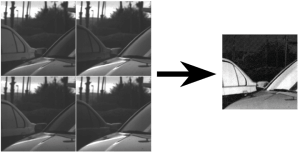 Image enhancement with PolarCam. On the left are the four parsed polarization images. On the right is the enhanced image, with the contrast between the cars and background is greatly increased.
High-resolution PolarCam cameras are available with 5.1 MP sensors. The video rate of up to 74 full frames per second ensures fast capture of quickly changing scenes.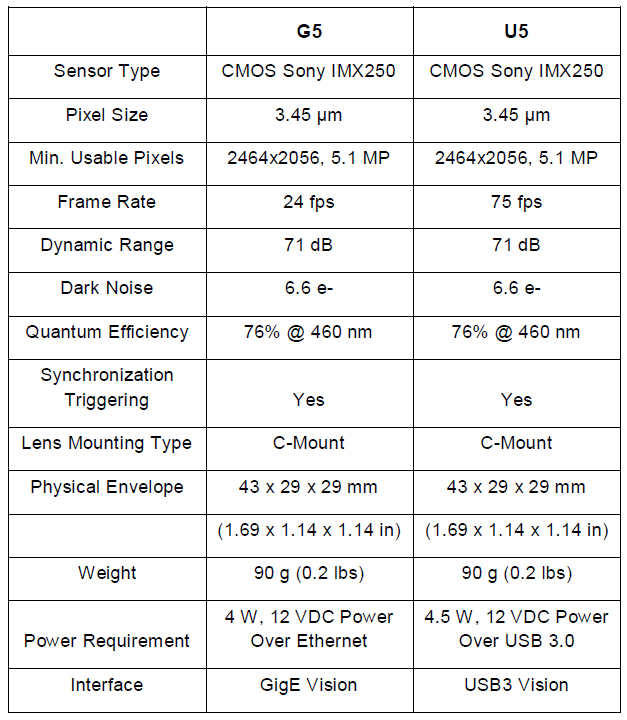 PolarView Real-time Analysis Software
Optional PolarView software provides real-time display and calculation of key polarization parameters, including Degree of Linear Polarization (DoLP), Angle of Linear Polarization (AoLP), linear Stokes parameters (S0, S1 and S2) and more. Use the many included tools to process and analyze the data, then save images and movies of each parameter for comprehensive analysis.
An optional high speed computer system maximizes camera performance. 4D Technology can also provide complete illumination and imaging solutions based on the PolarCam. Contact 4D for more on custom imaging and sensing solutions.
Software Development Kit to Make the Most of your Data
The PolarCam Software Development Kit assists you in accessing information from PolarCam cameras for analysis and further manipulation. The SDK gives you access to common camera controls and settings. You can access and output the raw image frame and parsed polarization states, and calculate the polarization parameters including birefringence and retardance.
Accessories to Assist in your Application
Expand the capabilities of the PolarCam™ snapshot micropolarizer cameras with a range of accessories.
The 1″ format Macro Lens offers manual zoom and iris control (F1.9 – close) and a focal length range from 16-100mm. This general purpose, C-Mount lens will work well with all PolarCam cameras except the H model.
This rugged, compact aluminum Tripod adjusts from fully folded (15.4″) to 61.6″ height. The tripod legs can be independently locked at different angles to shoot in cramped quarters, on uneven terrain or at low camera angles. The ball head offers separate head and pan locks and a 360° pan index. Includes carrying case.
The Li-ion Portable Battery Power Unit will run the PolarCam and laptop computer for 8+ hours for remote scene capture and surveillance applications. The compact battery (8 1/4 x 6 3/4 x 2 1/8″) recharges quickly from an AC wall outlet or a DC car/boat/solar port. DC and USB outputs.
The Mobile Cart holds the laptop and battery pack securely in place and provides carrying space for the camera and tripod. Large, rubber wheels and a wide base make the cart stable on uneven terrain. Integral power strip and cable management system.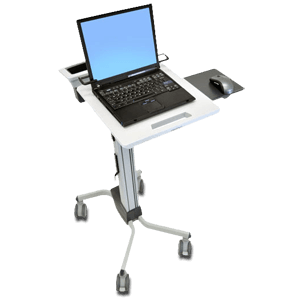 The Travel/Storage Case holds the PolarCam, laptop computer, lens, cables and camera power supply for mobile use and safe shipping.
Location
3280 E Hemisphere Loop, Ste 146
Tucson, AZ 85706
Email
4Dinfo@ontoinnovation.com
Office Hours (Arizona Time)
Mon: 8am – 5pm
Tue: 8am – 5pm
Wed: 8am – 5pm
Thur: 8am – 5pm
Fri: 8am – 5pm
Sat: Closed
Sun: Closed