Snapshot Micropolarizer cameras
PolarCam: Innovative Sensors and Powerful Image Analysis
PolarCam snapshot micropolarizer cameras simultaneously capture a snapshot image of multiple polarization angles from each video frame, without image blur. 
PolarCam Polarimeter Camera Description
Compact, fast and field-proven, these unique cameras enable a range of image enhancement techniques and polarimetric measurements, for applications in process control, medical imaging, remote sensing and more.
Micropolarizer technology enables the PolarCam's broad spectral response, wide angular bandwidth and high extinction ratio. The micropolarizer array is bonded directly to the sensor and includes no moving parts, providing a fully solid state, Division of Focal Plane (DoFP) configuration.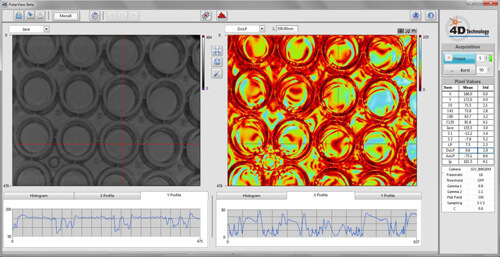 PolarView Real-time Analysis Software
Optional PolarView software provides real-time display and calculation of key polarization parameters. Process and analyze the data, then save images and movies of each parameter for comprehensive analysis.
Complete kit
Includes all you need to take and analyse measurements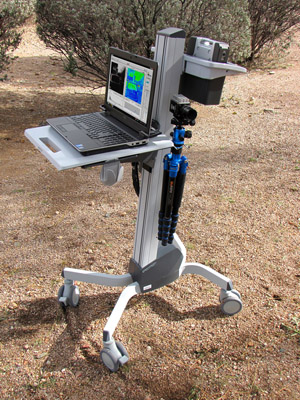 Field Accessories
Macro lenses, battery, work cart, travel case and tripods can make your tests go easier.
Software Development Kit
Our SDK assists you in accessing information from PolarCam cameras, to build your own custom data analysis.
Micropolarizer technology enables PolarCam polarization cameras to acquire four polarization angles simultaneously.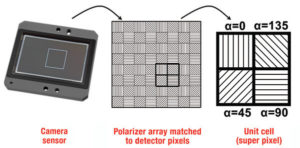 PolarCam can be used for such techniques as image enhancement. In this simple demonstration, there are four parsed polarization image on the left, and on the right is the enhanced image. In the enhanced image, the contrast between the polarized light from the cars and the unpolarized light of the background becomes greatly increased.
4D PolarCams use 2448 x 2048 5.0 Megapixel sensors for high resolution, fast, blur-free images. 
Download the PolarCam Specifications Sheet
Download the PolarCam SDK Specifications Sheet
4D supplies a turnkey polarimetry system:
PolarCam polarization camera
Analysis computer
PolarView polarization analysis and imaging software
Connecting cables and power supplies
We offer a full set of accessories:
Field accessories let you set up your PolarCam in the lab, in the field or in the shop.
Tripods
Macro lenses
Wheeled work cart
Li-ion portable battery power unit for field operation
Travel/Storage case
The easy to use and powerful PolarView software presents the enhanced, combined view (upper left), individual angle views, intensity images (color image) for Degree of Linear Polarization (DoLP), Angle of Linear Polarization (AoLP), linear Stokes parameters (S0, S1 and S2) and more. Tabular data reports numerous parameters and is configurable.
Analyze with adjustable profile lines to detect features embedded in the image and quantify them.
Compact sensor
Small, easy to mount, rotation-independent.
Versatile Analysis
Real-time calculation of key polarization parameters including Degree of Linear Polarization (DoLP), Angle of Linear Polarization (AoLP), linear Stokes parameters (S0, S1 and S2) and more. 
Range of Applications
Image enhancement and object discrimination for applications from security to oceanography to astronomy.
PolarCam  applications
Check out our application pages on using a snapshot polarimeter.
Location
3280 E Hemisphere Loop Rd, Ste 146
Tucson, AZ 85706
Email
4Dinfo@nanometrics.com
Office Hours (Arizona Time)
Mon: 8am – 5pm
Tue: 8am – 5pm
Wed: 8am – 5pm
Thur: 8am – 5pm
Fri: 8am – 5pm
Sat: Closed
Sun: Closed