AccuFiz D: On-Axis Dynamic Fizeau with Surface Isolation
The AccuFiz D is the latest in the AccuFiz family and combines two unique features: On-axis dynamic capability and surface isolation. We found it did well for a new measurement requested by a customer.
AccuFiz D can be oriented in any direction. Its light weight make it easy to install and use. Its dynamic measurement technology means you can measure in turbulence or vibration — or simply acquire a large number of averaged measurements in record time.
On-axis dynamic measurements are made possible with the incorporation of 4D's patented micro-polarizer interferometric technology. This allows single frame measurements without the need to introduce a tilt between the reference and test beams, which preserves the common-path nature of the Fizeau configuration.  On-axis operation is particularly important when using transmission sphere reference optics, which introduce substantial aberrations when used off-axis.
 The AccuFiz D also incorporates a tunable short-coherence length source module that enables the user to selectively interfere any cavity combination. This is particularly useful when measuring plane-parallel optics such as windows without the need to treat the backside. It also permits the direct measurement of total thickness variation (TTV).
 A precision lens making customer presented us with a challenge: they had a dome-shaped optic of uniform thickness and they needed to measure surface quality and the distance between surfaces. The AccuFiz D was the perfect solution offering dynamic on-axis Fizeau that can rapidly average measurements without vibration isolation. It also features a surface-isolation technology, SIS, that can selectively measure either the front or back surface, or directly measure the front to back surface.
By using a reference sphere to create the necessary spherical wave front, the interferometer was optically "matched" to the dome so the light could be collected back into the system. The SIS module allowed selective tuning to measure first the outer surface relative to the reference surface, and then the inner surface (relative to the reference surface) without the need to change the part position or treat either surface with fluids or paints.  Additionally, the SIS can be tuned to directly measure the total thickness variation TTV between the front and back surfaces, irrespective of the reference surface. Thickness as small as 50microns can be measured.
 The unique ability to tune between surfaces, along with the on-axis dynamic measurement capability provide a very flexible and capable general purpose instrument for shop floor measurements.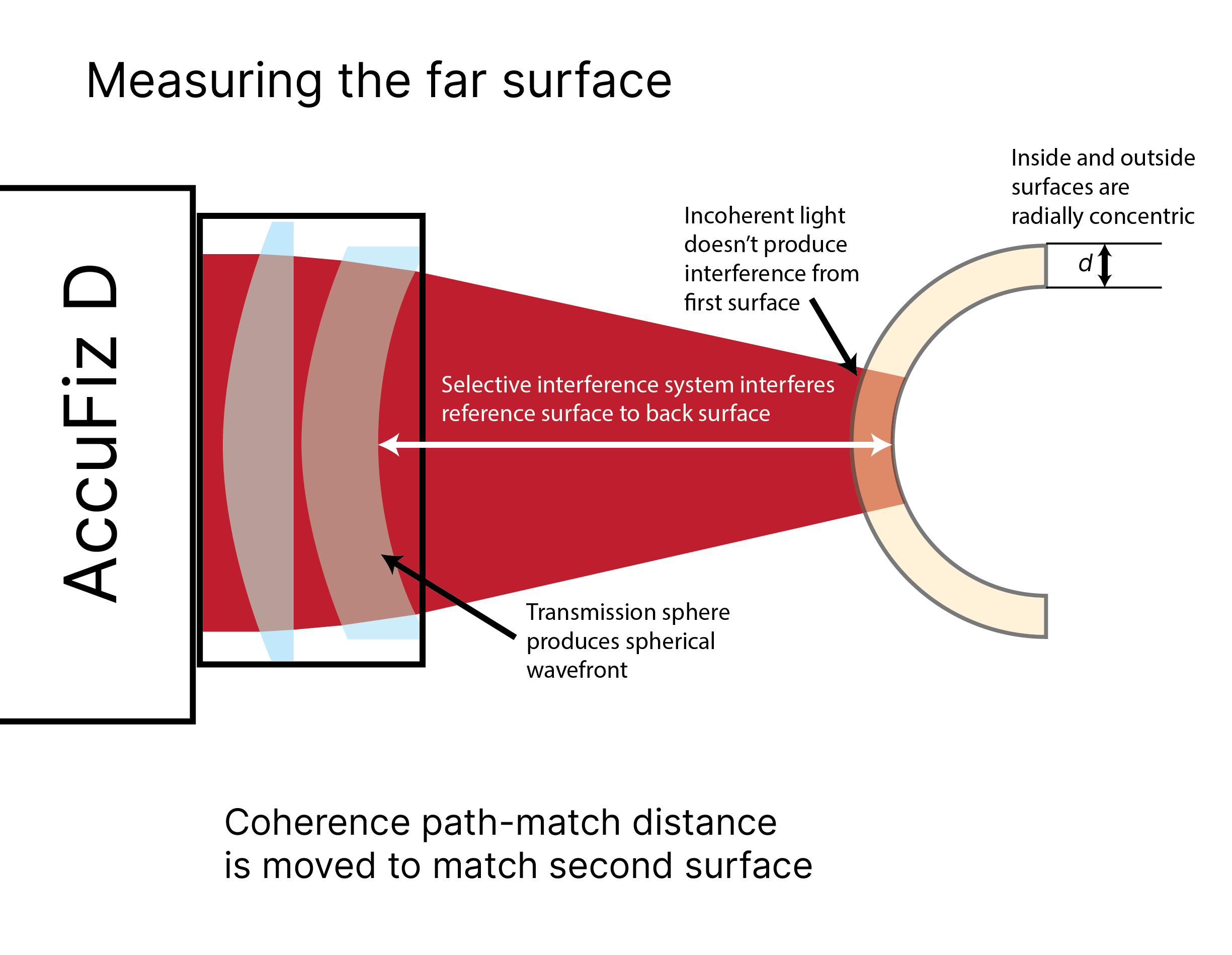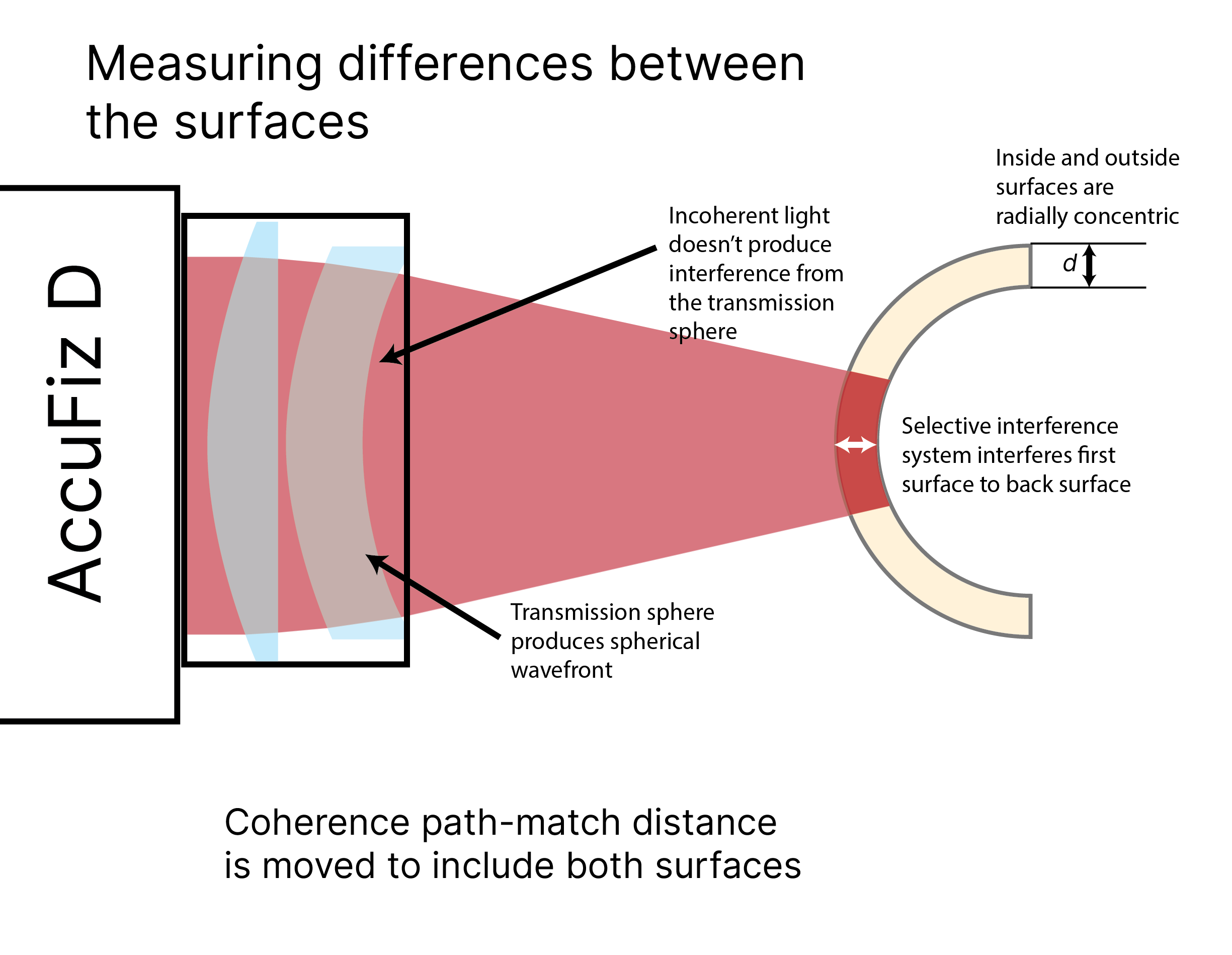 AccuFiz D with surface isolation can select both the front and rear surfaces of the optical window to interfere, allowing a comparative thickness (TTV) measurement.
It turns out, that the source isolation technology, which was developed to measure plane parallel flat optics, can also be used for dome windows!
Ask for a demonstration
Contact us for an actual measurement on the new AccuFiz D of separate front and back surfaces of a dome. AccuFiz D is an on-axis dynamic Fizeau interferometer. With it, you get on-axis convenience, dynamic speed and accuracy, and surface separation for measuring parallel surfaces, with vibration and turbulence immune capability.
Do you need custom-built metrology?
Get a free consultation. 4D Technology's mechanical, optical, electrical and software engineering teams are standing by to evaluate what it would take to meet your application's requirements.
Location
3280 E Hemisphere Loop, Ste 146
Tucson, AZ 85706
Email
4Dinfo@ontoinnovation.com
Office Hours (Arizona Time)
Mon: 8am - 5pm
Tue: 8am - 5pm
Wed: 8am - 5pm
Thur: 8am - 5pm
Fri: 8am - 5pm
Sat: Closed
Sun: Closed