AccuFiz Large Aperture Accessories
Measure optics to 600 mm diameter with the resolution of a standard interferometer.
Take advantage of the high wavefront quality and reliability of a standard AccuFiz to measure large flats and large-diameter curved surfaces—and small to mid-sized optics as well.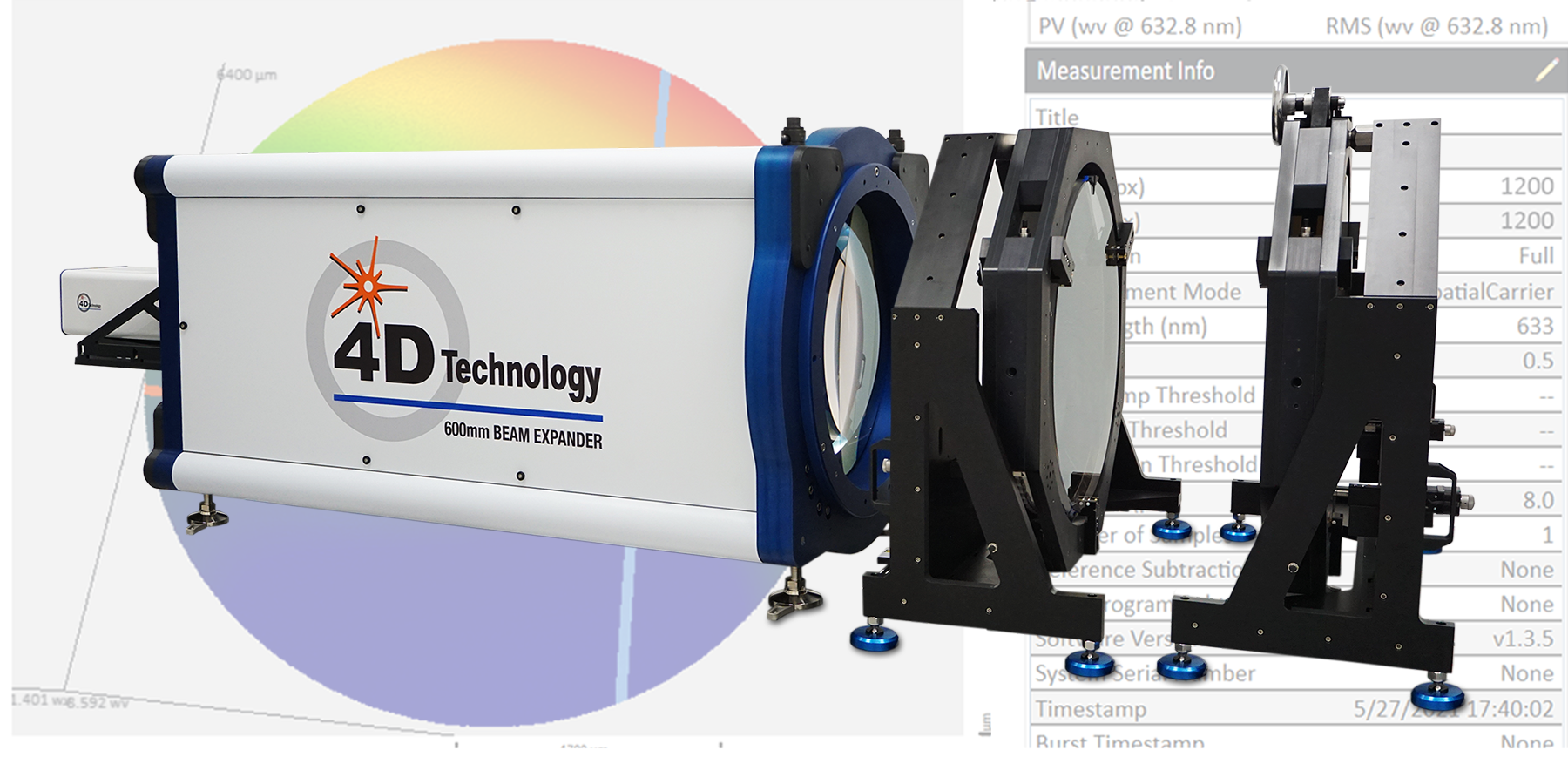 Measure Large AND Small Optics with One Instrument
AccuFiz Large Aperture Converters
4D compact, high performance aperture converters produce collimated test beams of up to 600 mm diameter. Kinematic mounting makes it possible to quickly remove the AccuFiz for stand-alone operation, measuring a wide range of flat and focal optics throughout the shop. Then, return the instrument to the aperture converter to measure larger optics, with no need for re-alignment. The system can be used in horizontal or look-down configurations to maximize flexibility.
Reliable, Repeatable Optics Mounts
4D mounts provide highly repeatable tip and tilt of the test and/or reference optics. The mounts accept either sling-mounted flats, which are set in removable handling cells that provide precision, 360-degree rotation, or potted flats which can be rotated in 60 degree increments.
The 4D phase-shifting tip/tilt mount includes a piezo-actuated phase shifter for shifting the reference temporal measurements when an aperture converter is employed. 
A range of transmission and return flats are available, with λ/10 or λ/20 wavefront quality.
Everything Included
A large aperture AccuFiz interferometer system includes:
AccuFiz 100 mm interferometer
Kinematic aperture converter
Motorized tip/tilt mounts for transmission and return optics
Piezo-controlled mount for shifting the reference for temporal measurements
Visible alignment laser system
Complete computer system
Connecting cables and power supplies.
Considerations in designing very large aperture interferometers
Learn how modern materials, design methods, and software can reduce complexity, improve precision and repeatability, and greatly enhance the usability of large-aperture Fizeau interferometers.
Download the white paper using the form above.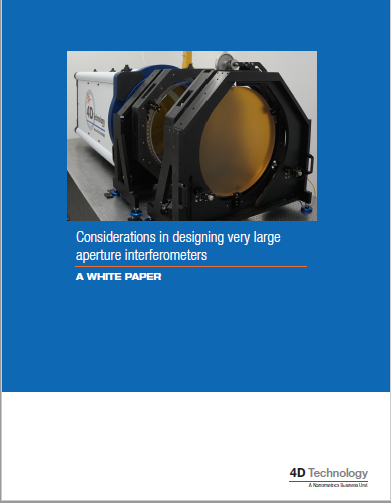 Introducing 4Sight Focus
The all-new 4Sight Focus analysis software—included with all 4D interferometers and optical profilers—provides blazing fast acquisition, rich visuals, and a wealth of analysis features.
Fast acquisition and analysis
Clean, configurable interface
Simple to learn
Deep analysis capabilities
Easy data output
Smart integration and automation.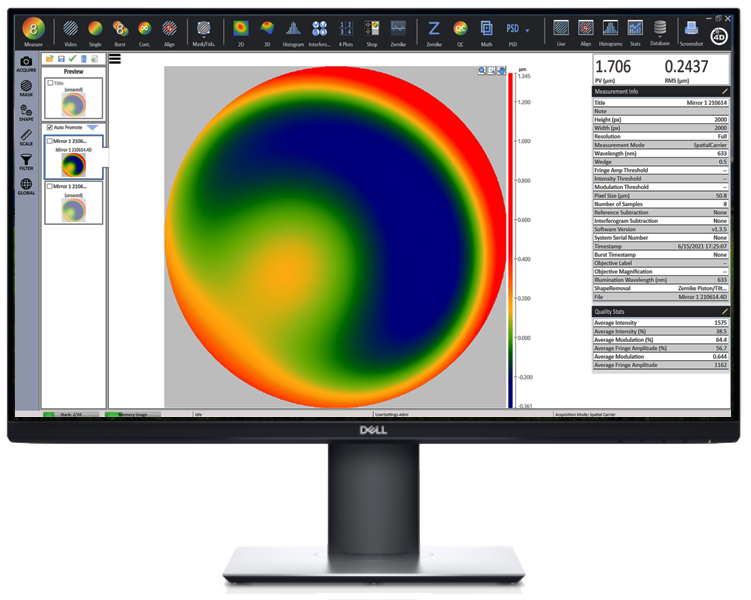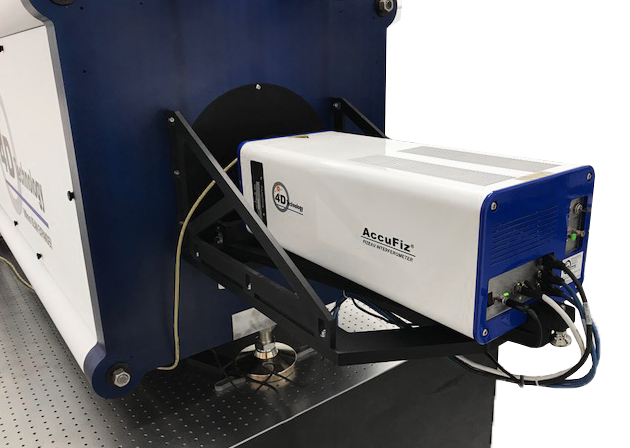 Fizeaus and optical production
AccuFiz Fizeaus are well suited to optics manufacturing.
Large optics, both flats and spheres
Qualify shape and mid-spatial frequencies
Measure flats, spheres, cubes and mirrors
Wavefront transmission quality measurements
Fast and precise
Use in Aerospace, Semiconductor and Optics industries
Added Technical Resources
Setting the Wedge Factor Tech Note
The Wedge Factor scales results to account for the geometry of an optical test setup. This tech note explains how to set the parameter for measuring wavefront error and surface height in common configurations.
Location
3280 E Hemisphere Loop, Ste 146
Tucson, AZ 85706
Email
4Dinfo@ontoinnovation.com
Office Hours (Arizona Time)
Mon: 8am - 5pm
Tue: 8am - 5pm
Wed: 8am - 5pm
Thur: 8am - 5pm
Fri: 8am - 5pm
Sat: Closed
Sun: Closed