It doesn't matter if the curve is convex or concave, taking a 3D measurement of a curved area to get the radius measured is a great time-saver, because you don't need to worry about aligning a stylus to be perpendicular to the curve.
Handheld 4D InSpec quickly captures measurements from curved parts, with a point-and-click ease. On the measurement plot, click and drag a profile line, and the radius is calculated in realtime as you draw. By using an average of an area of profiles, you minimize noise created by texture on the surfaces. Adjust the ends until you've found the smallest radius (this will be tangential), and you're done.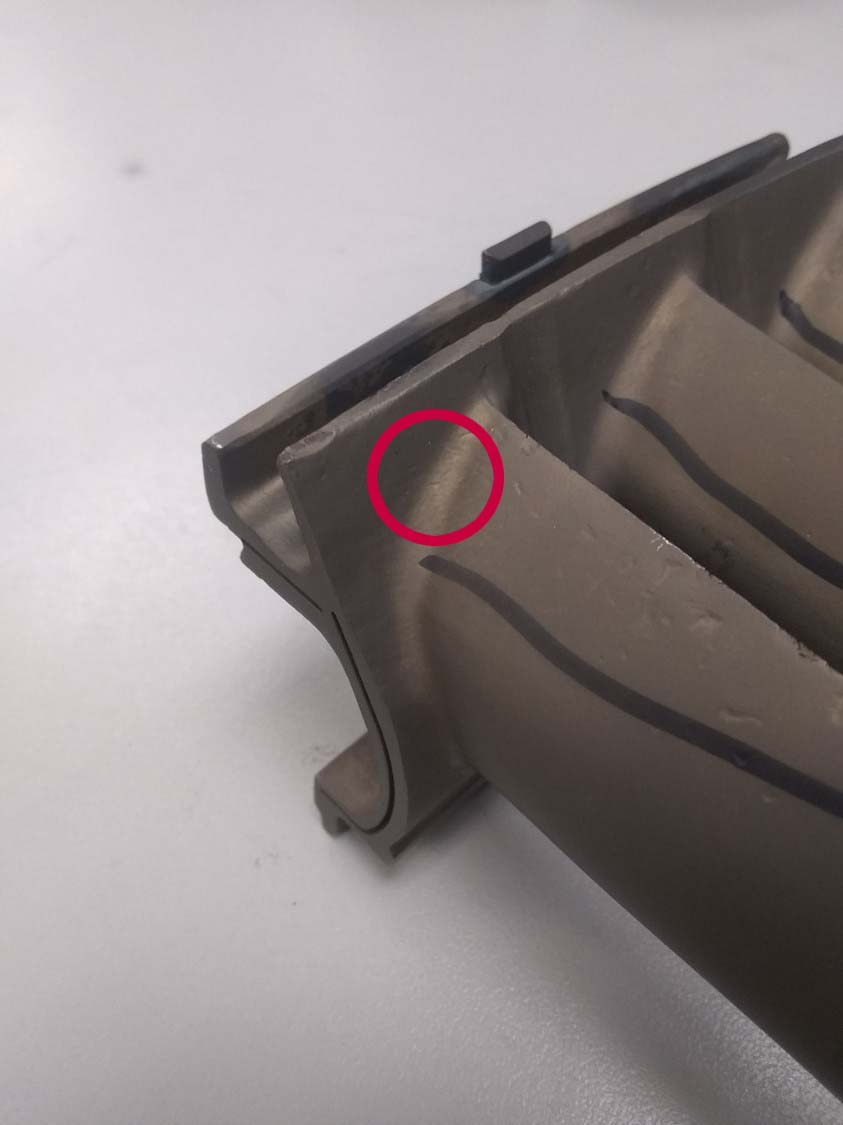 Related video: Measuring Radius of Curvature, Chamfer and Edge Break
Measuring an inside radius on a turbine blade with the 4D InSpec XL (or 4D InSpec) takes just seconds.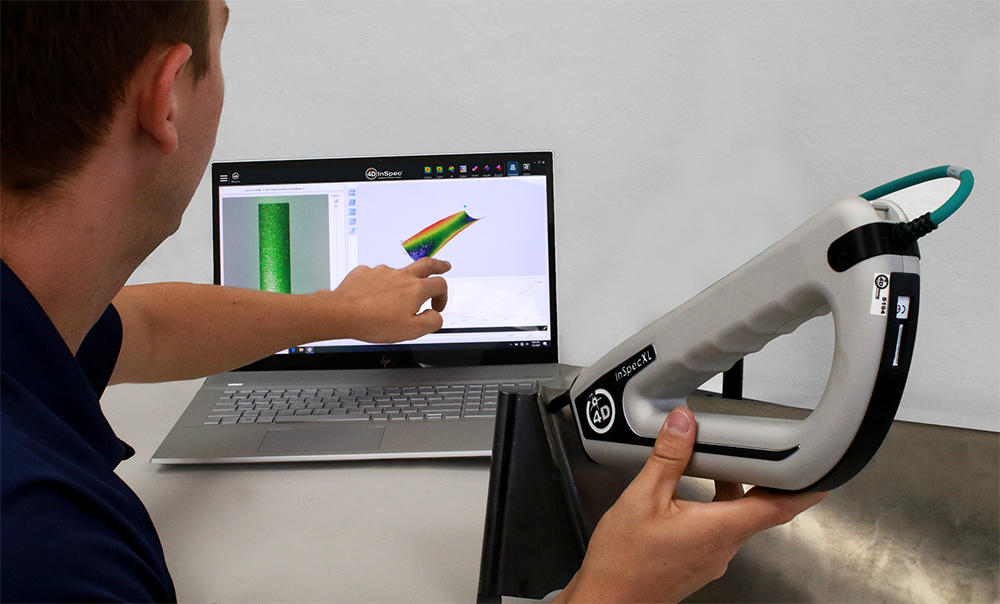 This is the measurement of the turbine fillet radius from the picture above. It was acquired in seconds. In the indicated ring, you can see the radii of the three traces (green lines) across the contour map.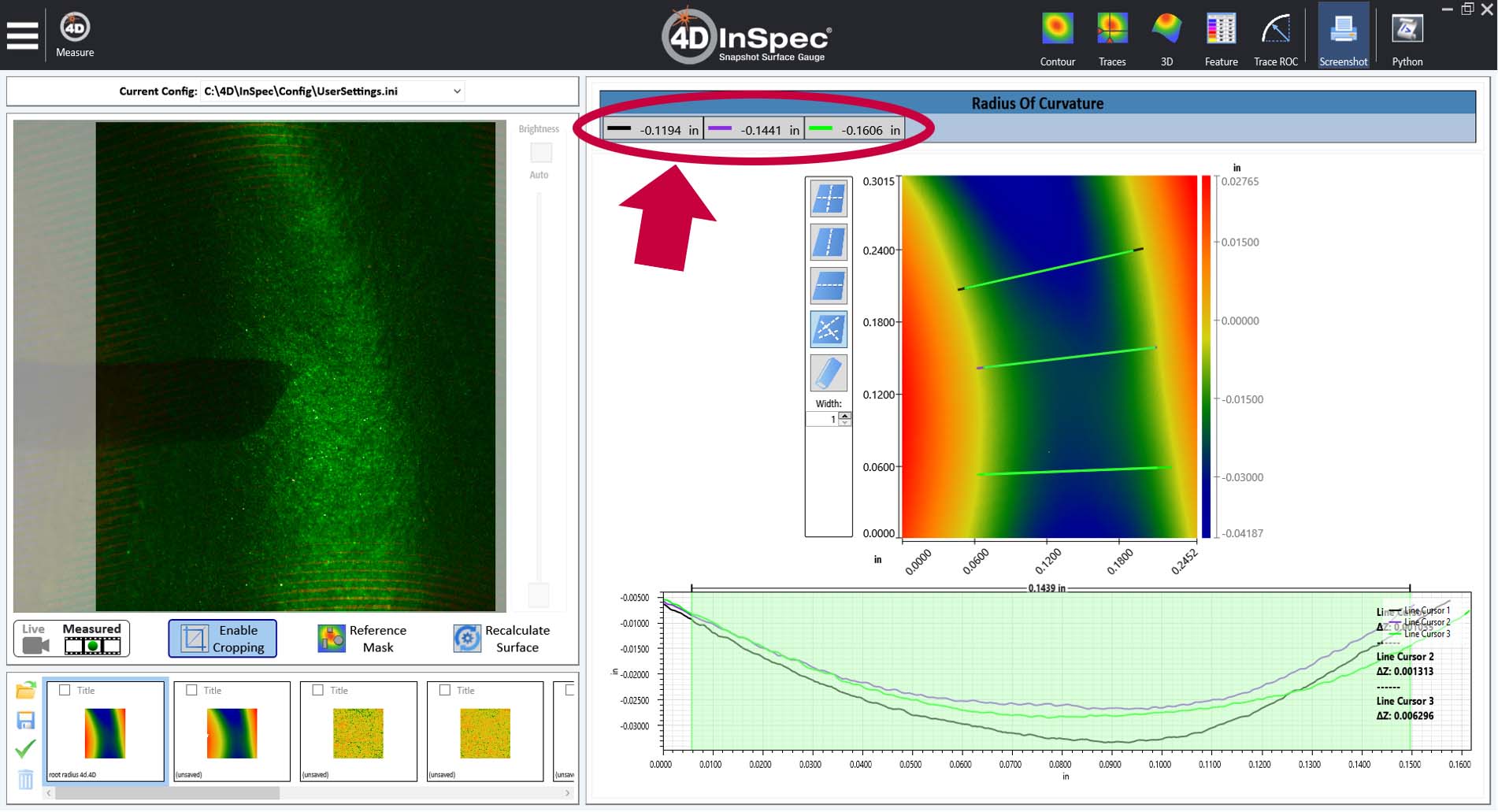 In this demonstration, we've drawn three traces at different locations to compare the radii. The radius is calculated from end to end of each trace. The green area (lower right) on the line-profile plot is created by clicking and dragging in the chart, and gives you adjustable end points. This helps you make calculations from trace segments that are all the same length, and allows you to eliminate errors in calculating radius stemming from edge roll-off or plateaus at the ends of the traces.
In the left half of the screenshot, you can see the camera's field of view for the measurement. The green and black false color tells the operator that they have good focus and tilt, and are ready to capture a measurement. This kind of direct, live feedback while measuring makes measurements simple and easy.
The 4D InSpec and 4D InSpec surface gauges make it easy to measure inside and outside curves on a wide variety of components. Here the 4D InSpec XL is measuring the outside radius of a section of tubing.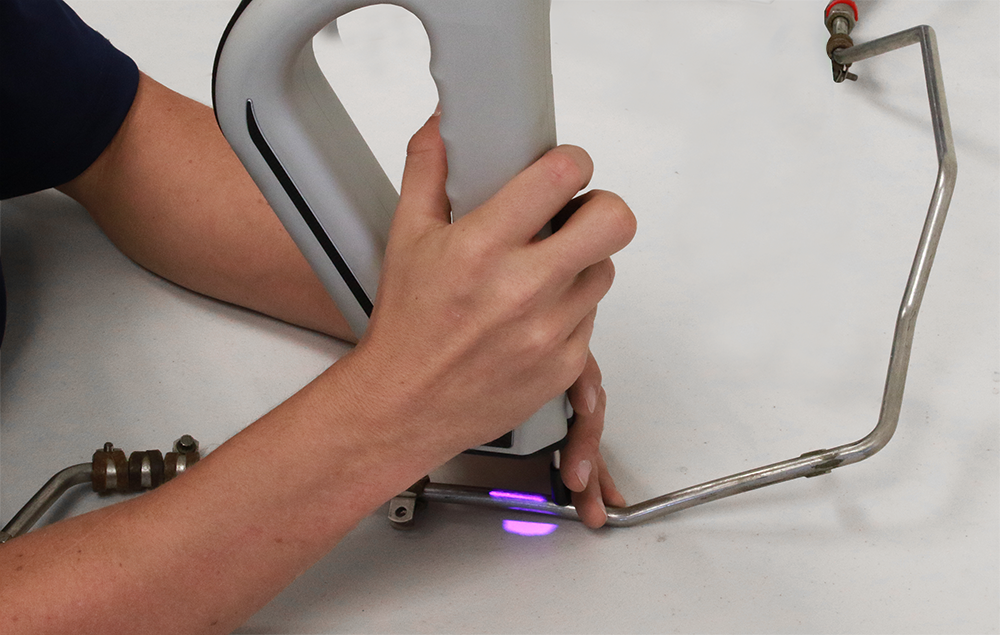 Read About Related Applications
Added Technical Resources
Video Tutorial Measuring Radius of Curvature
This six-and-a-half minute video demonstrates how to take a measurement and get the Radius of Curvature profiles you need from it. You can see more tutorials on our Training Video Page.
Learn more about the products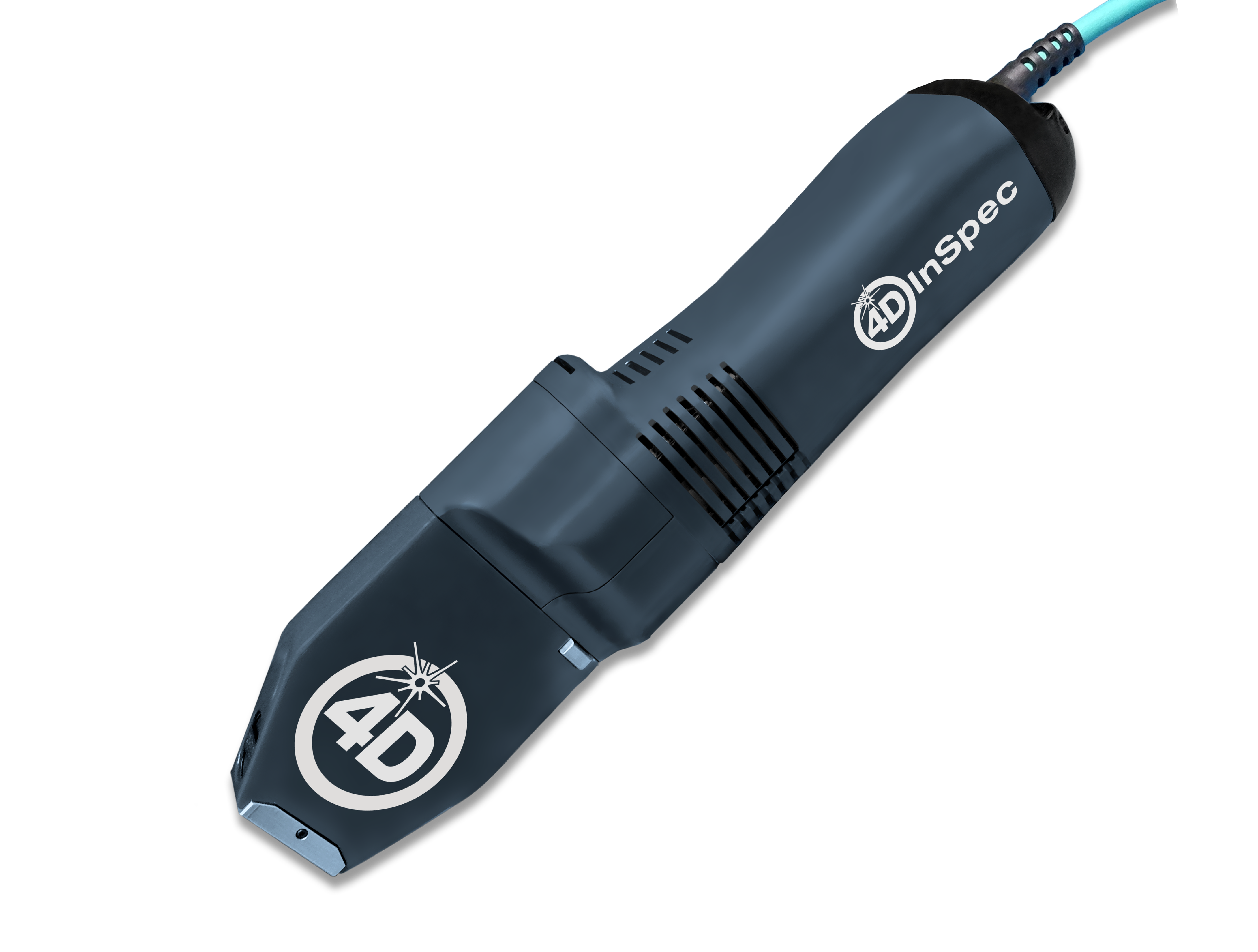 4D InSpec
4D InSpec provides non-contact measurement of surface features and defects, on the factory floor, in machine shops and in field service applications.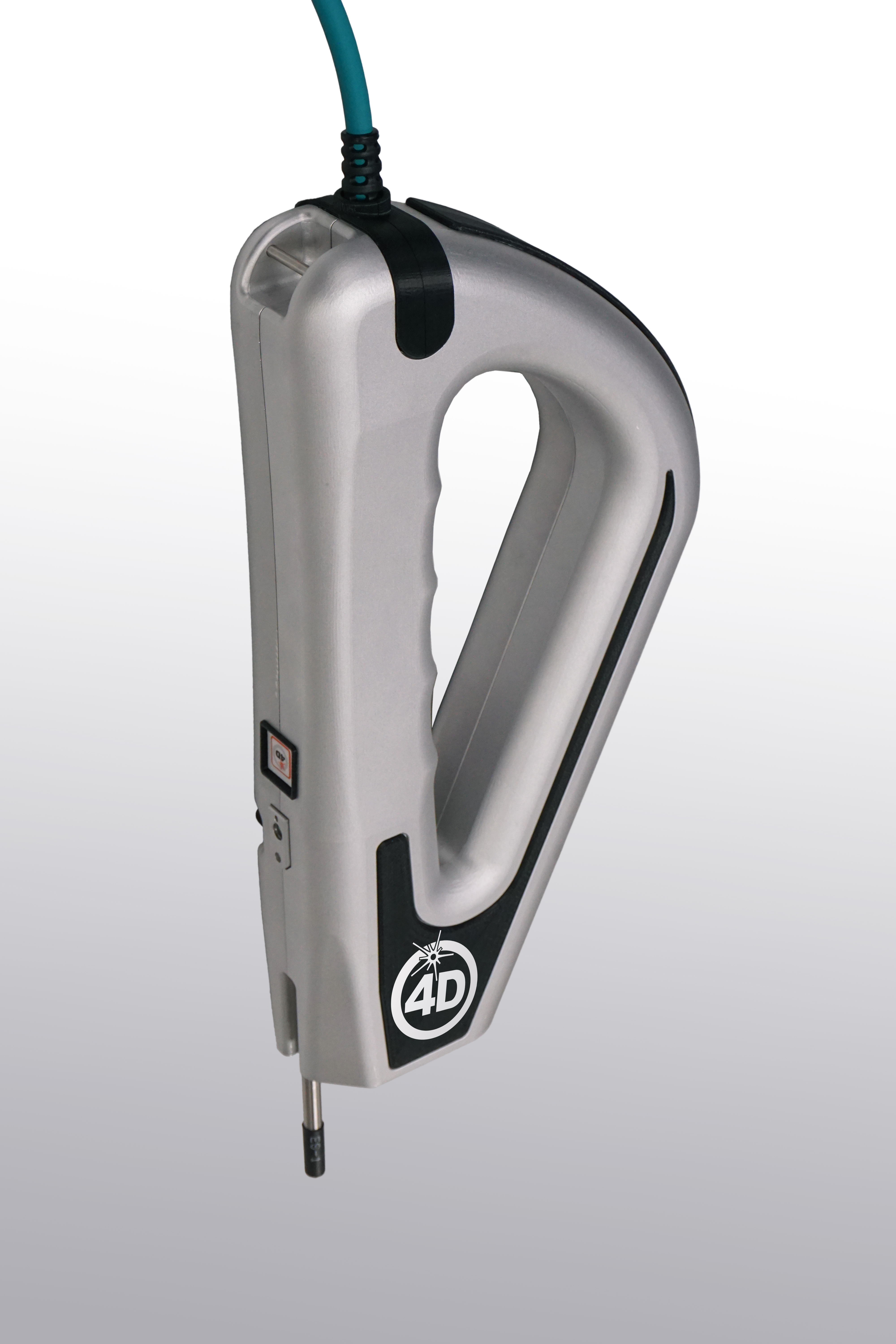 4D InSpec XL
A handheld defect inspection gauge that works like 4D InSpec standard, but with a larger field of view, to measure wider and deeper features.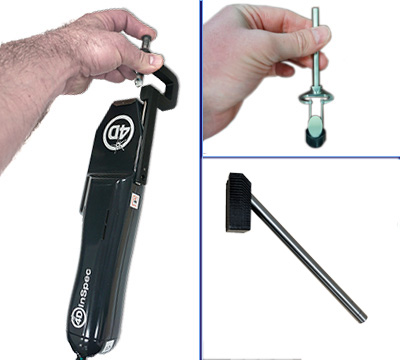 InSpec Accessories
Accessories for improving portability, ease of use, or for accessing hard to reach measurements like sidewalls and through-holes.
Location
3280 E Hemisphere Loop, Ste 146
Tucson, AZ 85706
Email
4Dinfo@ontoinnovation.com
Office Hours (Arizona Time)
Mon: 8am - 5pm
Tue: 8am - 5pm
Wed: 8am - 5pm
Thur: 8am - 5pm
Fri: 8am - 5pm
Sat: Closed
Sun: Closed