Watch for the upcoming software release
4D InSpec's operating software application is scheduled for an update
Coming for the end of 2020, we're hoping to have 4D InSpec Software version 1.4 ready for release. The new version will have some improved functionality and added features we think you'll like.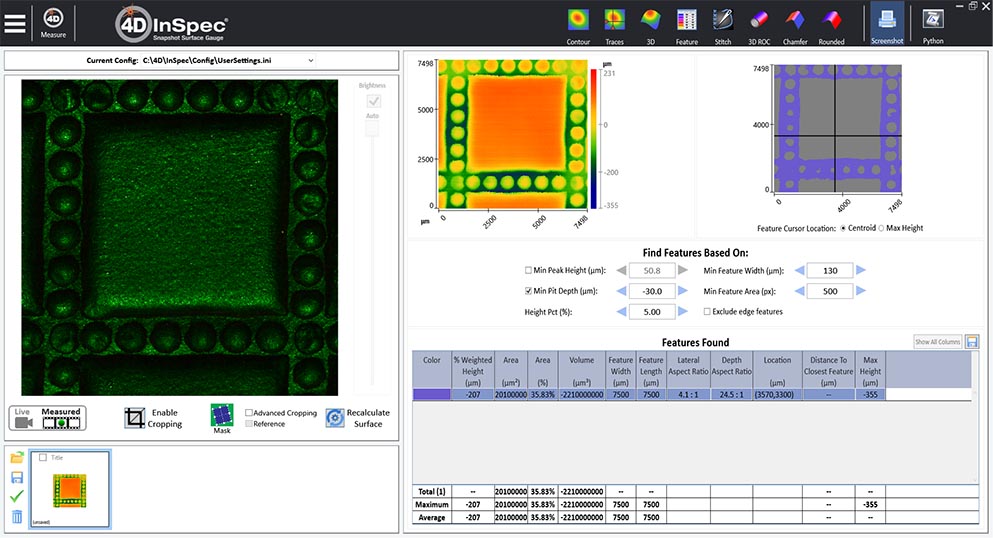 In brief:
 Greatly improved auto-brightness:  Faster and more accurate. We believe that manual changing of brightness should be a thing of the past.
Advanced cropping:  Draw polygons, rotate rectangles, have multiple editable regions that are cropped for measurement and analysis. 
Feature Analysis Improvements:  Per customer request, when you click on a pit or peak, you can set the crosshairs to go to the highest/lowest point in that region instead of the center.
Edge Break and Chamfer Analysis Improvements:  3X faster analysis, and even more robustly able to ignore instrument-to-part alignment skew.
Getting your update
If your 4D InSpec is under warranty, you'll be contacted by 4D Service to ask your preferred method of upgrading. If you're not sure, or your warranty has expired, contact us with the mail link below to get on the notification list.
Location
3280 E Hemisphere Loop, Ste 146
Tucson, AZ 85706
Email
4Dinfo@ontoinnovation.com
Office Hours (Arizona Time)
Mon: 8am - 5pm
Tue: 8am - 5pm
Wed: 8am - 5pm
Thur: 8am - 5pm
Fri: 8am - 5pm
Sat: Closed
Sun: Closed