Automated Surface Defect and Feature Inspection
Vastly improve inspection throughput and quality in aviation, aerospace, and other applications.
The 4Di InSpec AT is a high-throughput, high resolution defect and feature inspection solution. The automated system can measure dozens of edge break features, chamfers, and radii in minutes rather than days, vastly improving throughput and driving down inspection costs. 
Maximize process yield and quality
4Di InSpec AT systems combine a non-contact 4D InSpec or 4D InSpec XL surface gage with a collaborative robot and other automation for rapid production inspection.
4D InSpec is the first precision instrument for non-contact surface defect measurement. Micrometer-level resolution, measurement in seconds, and immunity to vibration make it the tool of choice for high-resolution, 3D surface measurement in manufacturing, MRO, and field service applications.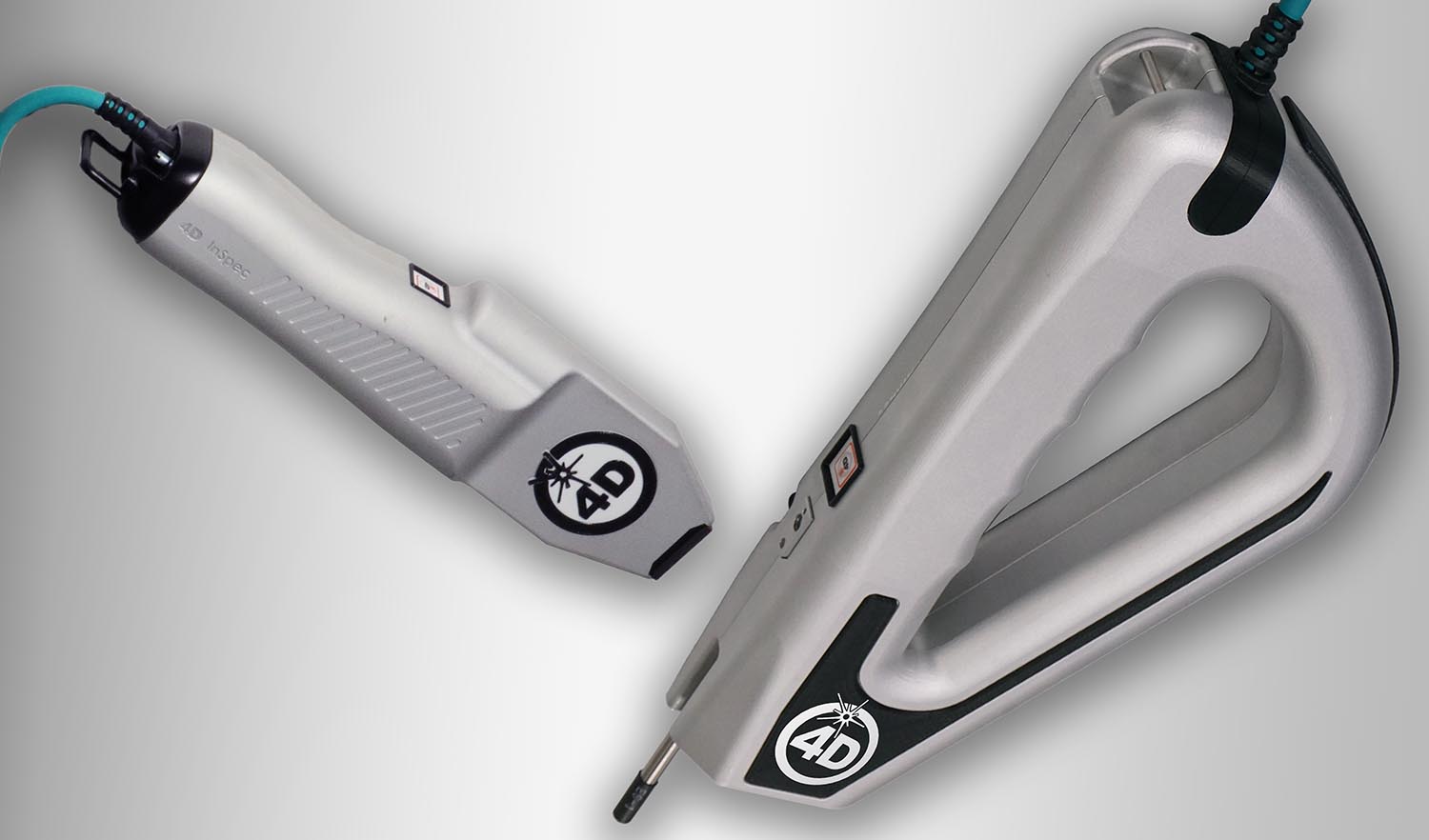 Rapid Measurement—anywhere on a part
4Di InSpec AT systems are the turnkey option for quality control of aerospace components such as turbine blades and rotors, air foils, high pressure compressor blades, blisks, and dovetails. The high resolution gage measures in any orientation, on curved surfaces, over large and complex geometries, and in tight spaces or blind locations.
Optional fold mirrors enable the gage to measure the insides of shafts, between gear teeth and fir tree roots, and in other tight spaces.
The 4Di InSpec AT instantly produces high resolution, 3D measurement results, with far more information than other methods. An inspector can immediately see both an image of the feature and easy-to-read statistics. User-friendly measurement automation software flags any out-of-spec measurements and automatically remeasures the locations.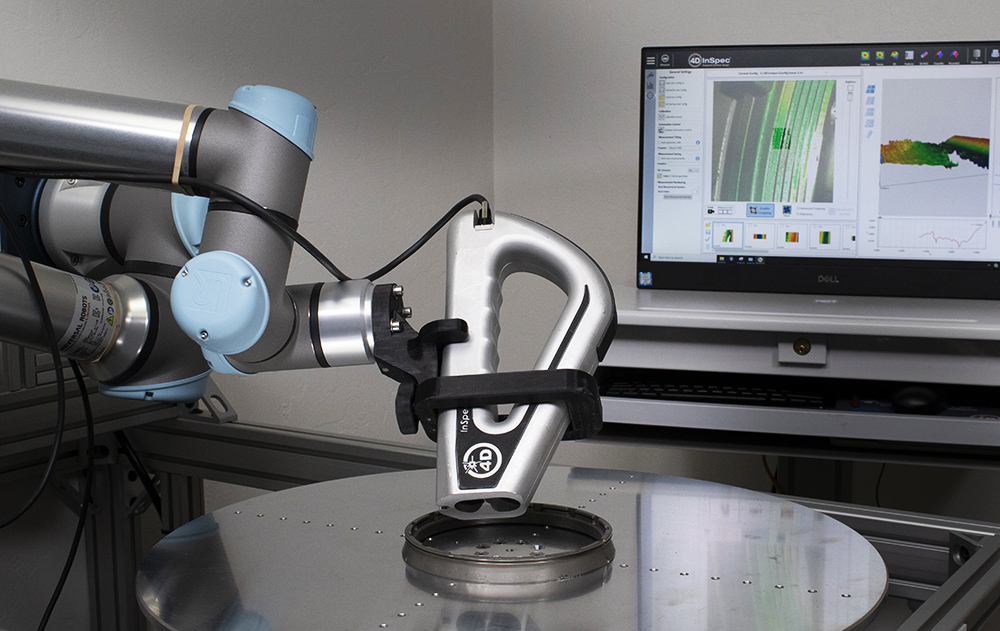 For Aero, aviation, and automotive development and production
Universal Robotics UR-5 or UR-7 robot
InSpec or InSpec XL sensor
Optional rotary table
For aviation and automotive manufacturing
Inline design
Fanuc CRX 5iA or CRX 10iA/L collaborative robot
InSpec or InSpec XL gage
Optional rotary table
Mount gage or workpiece on robot
Measurement automation software
Safety cell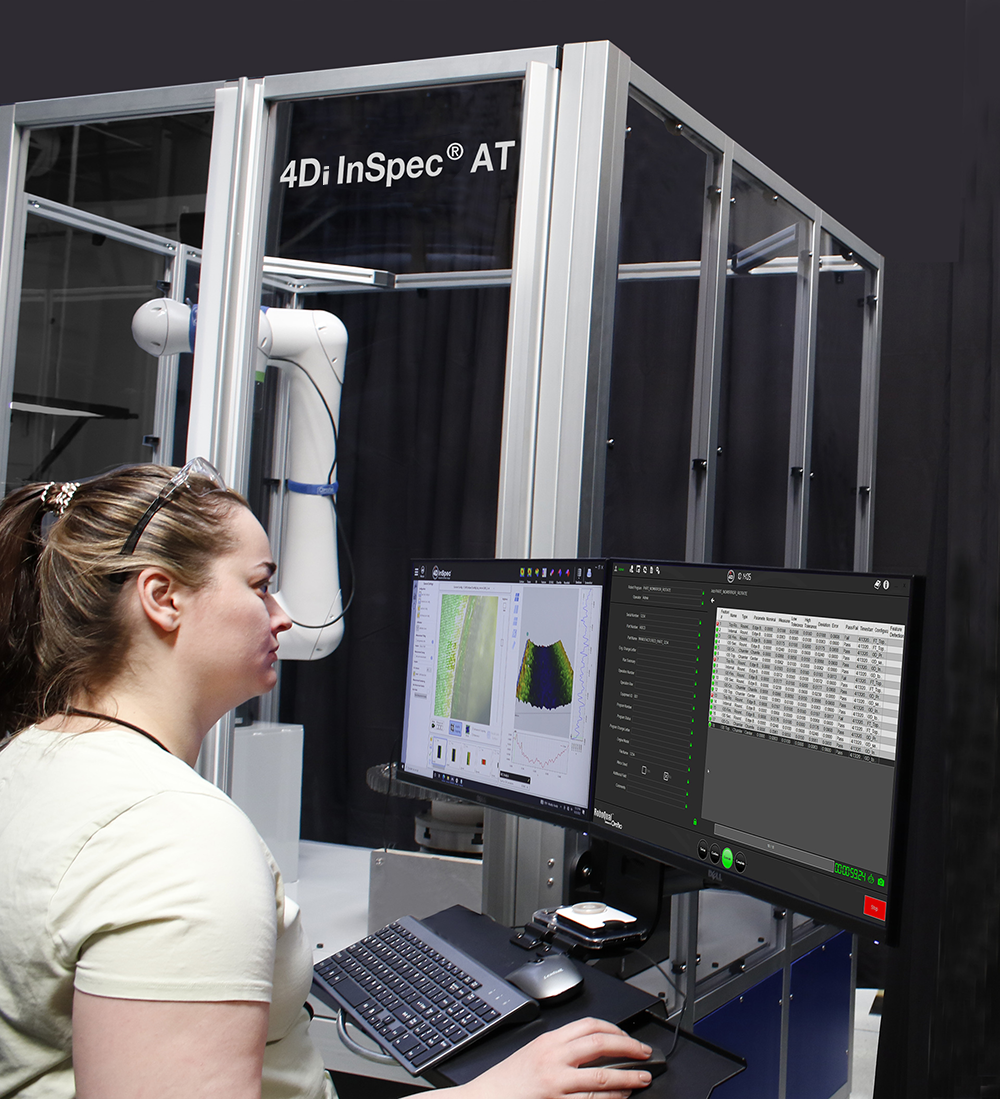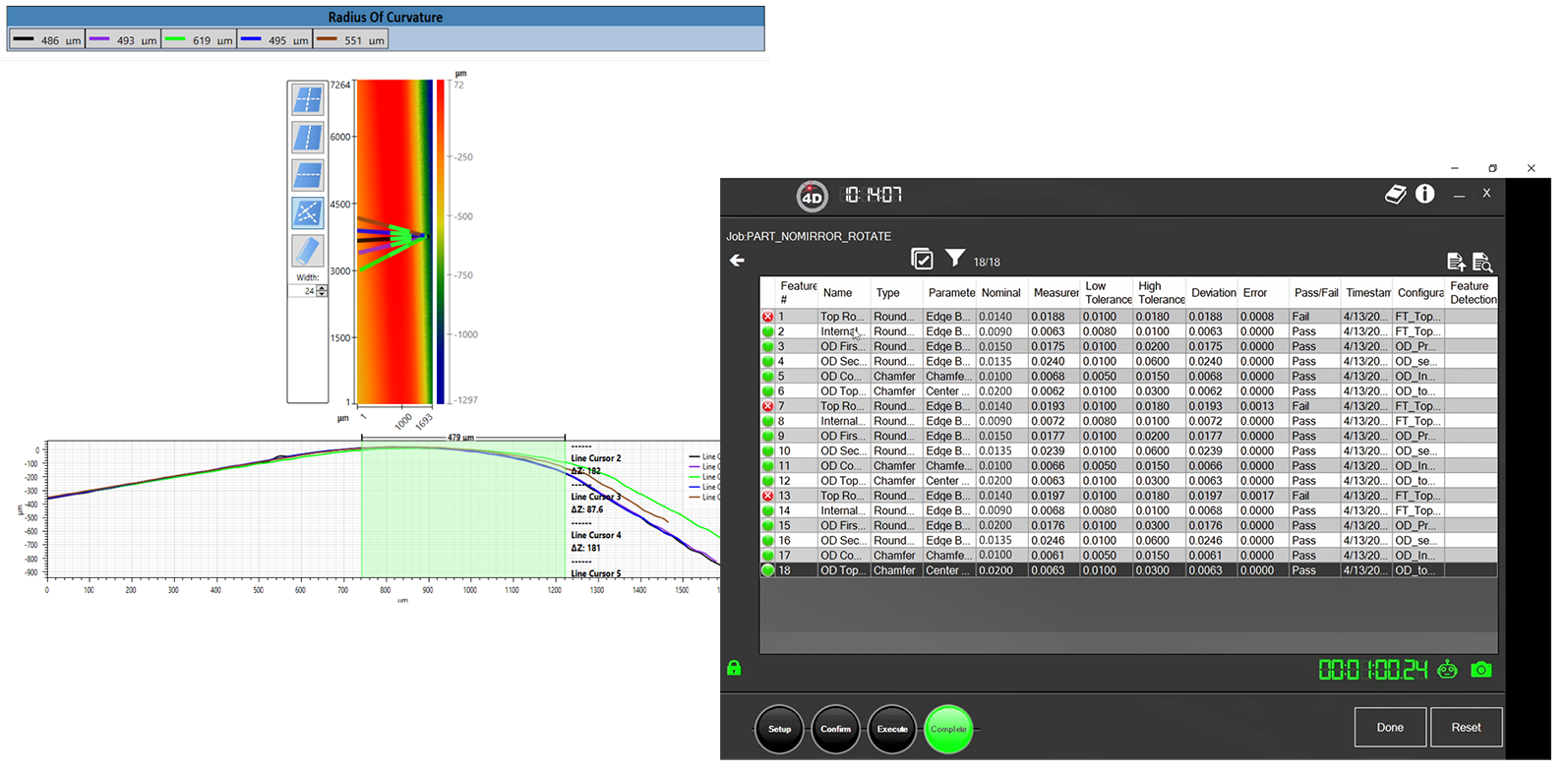 4di InSpec AT systems include 4D InSpec software for acquiring and analyzing data. Automatic feature finding, 2D traces and 3D plots make it easy to analyze chamfers, edge blend, radii, and more.
Measurement automation software enables automatic re-measurement at failed locations.
Programmable pass fail/limits

Flag in- or out-of-spec

Automatic re-measure of out-of-spec locations
Save critical parameters to database

Save every measurement

Send data to SPC systems
Location
3280 E Hemisphere Loop, Ste 146
Tucson, AZ 85706
Email
4Dinfo@ontoinnovation.com
Office Hours (Arizona Time)
Mon: 8am - 5pm
Tue: 8am - 5pm
Wed: 8am - 5pm
Thur: 8am - 5pm
Fri: 8am - 5pm
Sat: Closed
Sun: Closed