Surface Error of Large Concave Optics and Parabolas
Overview
Verifying the surface quality of large, concave optical surfaces such as meter-class mirrors, and ground- and space-based telescope optics has traditionally required a large aperture interferometer.
A Twyman-Green laser interferometer can do the job much more affordably. Built-in Dynamic Interferometry® enables measurement over long paths in <30 µs, without expensive vibration isolation. 
Measure Concave Surface Error with a Twyman-Green Interferometer
Compact, lightweight, remote-controllable PhaseCam Twyman-Green interferometers mount easily for measurement over large paths, in constrained areas, or in difficult to reach setups such as measurement towers.
Measuring the surface quality of a large concave optical surface with a Twyman-Green interferometer.
A 5-axis stand and other accessories are available to make it easy to position and adjust a PhaseCam Twyman-Green interferometer.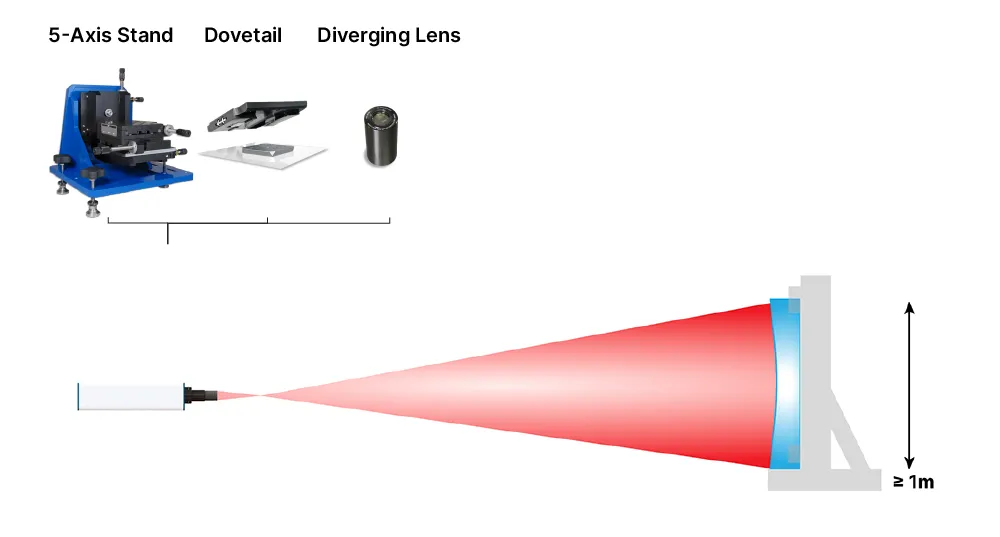 The test optic should be positioned in a high-quality optical mount with X, Y, and Z translation and tip/tilt adjustment. Precision mounts are available from 4D Technology for optics up to 600 mm in diameter. 
Measuring High Reflectors
PhaseCam Twyman-Green interferometers feature a beam ratio adjustment to produce excellent fringe contrast from highly reflective surfaces. A pellicle is not required.
With a traditional, phase-shifting interferometer, measurement data is acquired sequentially—a long enough process that vibration and air turbulence will degrade or even prevent measurement. The interferometer and all mounts must be situated on an air table to isolate the system from vibration.  Air isolation can be expensive—prohibitively expensive for very large optics or long measurement paths.
4D PhaseCam Twyman-Green interferometers include Dynamic Interferometry®, which enables all measurement data to be acquired simultaneously. Vibration is no longer an issue, and an isolation is not needed— a huge cost savings for very large optics or long measurement paths.
Want a convenient reference to this and other optical test setups? Download the Common Optical Testing Setups guide (PDF).
Measure Concave Surface Error with a Fizeau Interferometer
A Fizeau laser interferometer is also well suited for verifying the surface quality of small to medium diameter concave optics. 

Standard setup for measuring the surface quality of a concave optical surface with a Fizeau interferometer.
Need Assistance with Measuring Large Concave Optics or Parabolas?
Location
3280 E Hemisphere Loop, Ste 146
Tucson, AZ 85706
Email
4Dinfo@ontoinnovation.com
Office Hours (Arizona Time)
Mon: 8am - 5pm
Tue: 8am - 5pm
Wed: 8am - 5pm
Thur: 8am - 5pm
Fri: 8am - 5pm
Sat: Closed
Sun: Closed